It's not just business. It's personal.
Matthew T. Hoesly, CFP, ChFC
Hoesly explains how sharing personal information about yourself can enhance the relationship you have with your clients. Presented at the 2017 Annual Meeting.
I know you've all heard the saying, "Don't take it personal; it's just business." I can't stand that saying. Everything we do for our clients is personal. We're helping them plan for and protect their dreams and goals for their family. That's as personal as you can get.
A few years ago, we decided to devote almost our entire newsletter to what's going on in our personal lives. How many of you send out a newsletter to your clients? I'd be willing to be bet, whether it's your choice or your compliance department's choice, that most of that newsletter consists of product information, stock market or economic updates, or just investment tips. And that's so boring.
By focusing on our personal relationships with our clients, and especially sharing pictures in our newsletter of what's going on in our lives, we've made a huge difference in our relationships with them. Now the first thing clients ask when they walk into the room is how my daughter's birthday was or when our assistant is going to run her next marathon.
We also have pictures up in our office of our family, our hobbies, and other things that are interesting to us. And this can lead to other planning opportunities. For example, this is one of our newsletters, and the very first thing here is our assistant celebrating her father's ninety-sixth birthday. [visual] Talk about a great example for longevity planning, right? So once you find a common interest with a client, use that to strengthen your relationship.
I'm not a big golfer, but a lot of business gets done on a golf course because it is a more relaxed setting and people just feel more comfortable. But you can recreate this on a fishing boat, on a run or a bike ride, or any other hobby that you share and enjoy doing with your clients as well.
I go target shooting with one of our human resources directors. He's referred us to multiple corporate retirement plans. At our most recent outing, he said that he wanted us to manage almost $1 million of his personal assets as well.
I know that many of us give to charity throughout the years. We've done something different with that. We've given our clients the opportunity to grant a $1,000 donation to the charity of their choice in their name. This has been really, really cool. Each time we've done this, usually they take a little while to decide which charity they want to give the money to, but then after a couple days, they call back and always have a very personal, very touching story of why they chose that charity, and they are very grateful.
One of the surprises we had is that all of these strategies can help us strengthen our relationships with our vendors as well. Focusing on them, and not just looking at our wholesalers as a nuisance but looking at them as a partner, can help us grow our business. We treat them the same way we treat our good clients, which has helped our wholesaler relationships immensely. Some of our best referrals have come from our wholesalers, and it is the best referral stream we have right now.
So don't just hide behind your business relationships. Use the opportunity to strengthen them by being personal.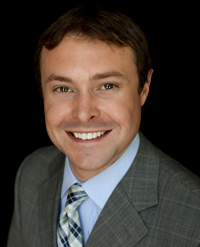 Matthew T. Hoesly, CFP, ChFC, is a nine-year MDRT member with four Court of the Table qualifications and one Top of the Table honor from Norfolk, Virginia. He was president of his local NAIFA board in 2012 and is an active member of a national study group.