Great conversations about critical illness insurance
Darren W. Ulmer, CFP, CHS
Gain a new perspective on the benefits of critical illness insurance through the experiences of Ulmer, a cancer survivor, and his 8-year-old daughter, Hanna. Ulmer stresses the importance of living benefits coverage and addresses how critical illness impacts not only the patient but the entire family. In addition to telling his own story through a letter written by his daughter, he recommends a variety of conversations to have with clients about critical illness insurance and how it helped his family focus on recovery rather than financial concerns.
Dear Santa,

It's Hanna here. Thank you for all the presents last Christmas. What is life like living at the North Pole? This Christmas I am very thankful for a nice house, nice family, nice school, and nice big brother. Thank you God for this wonderful family.

All I want for Christmas this year is if there is any way you could help my dad feel better because I do not like it when my daddy has cancer. Ever since my daddy has cancer, he is not the same daddy I first saw. It is like cancer has changed my daddy's life and my life, and I hate it that way. So can you please make my daddy feel better? If I can have just that, it would be the Greatest Christmas ever!

Hanna Ulmer, Christmas 2008
My name is Darren Ulmer, and Hanna is my daughter. She wrote that letter when she was eight years old. You see, I woke up one summer morning in 2008 with a lump under my right ear. It looked like someone had cut a hard-boiled egg in half, peeled it, and stuck it under my ear. I thought I must have gotten bit by something during the night. It never hurt at all. I was sure it would probably just go away.
After a week or so, I decided that since it hadn't gone away, I'd better get it checked out. The doctor at the medical clinic told me that I was in good shape and had an excellent family history, so I shouldn't be concerned. It would probably just go away. To be sure, he sent me for some blood tests. I thought, Great! If the doctor wasn't concerned, why should I be? I had blood tests done that day. A week later I called for the test results. I was told by the nurse that I should not be concerned. If there was anything wrong, they would call me, and I should not bother them. Again, I thought, it must be nothing.
Two doctors later, I was told that the blood work was clean, but if it would make me feel happier, I could have a biopsy in a couple of weeks. I agreed.
The biopsy was 10 days later. After the biopsy, the doctor told me that it was probably not nothing, that it was something, but he wouldn't know for another week. A week later, as I was sitting on the crinkly paper on the table in the examination room, while reaching for a 1998 copy of Reader's Digest , the doctor walked into the room. He said, "Well, I was right. It's not nothing, it's cancer. But if you had to pick one, you picked a good one. We have around an 80 percent success rate in curing this cancer." Let me ask you, would you get on an airplane if it had an 80 percent success rate of landing safely?
He told me I had squamous cell carcinoma of the right tonsillar plate. In simple terms, I had cancer on my tonsils. He told me a whole bunch more, but I don't remember a word of it. I don't even remember driving home. I just recall seeing my wife, Chanda, our eyes meeting, and she knew immediately what was going on. We spent some time together before telling the kids, and then our lives changed so dramatically forever.
I started nine weeks of intensive chemotherapy. Every three weeks, it took five hours to infuse my body with over two litres of life-changing poison to fight this cancer. I also had surgery to remove my tonsil.
My last treatment was on November 25, 2008. I will always remember because that's my wife's birthday, and she had to spend it with me in a hospital bed.
Then, while most people were thinking about New Year's Eve parties, I began six weeks of radiation. I was strapped motionless onto a medical platform, tattooed to line up the beams, and subjected to 12 minutes of barium radiation. The kids came in and wanted to hold my hand. Of course they couldn't stay, but it made them feel like they were helping for a few minutes.
After the radiation, the ensuing third degree burns on my neck, the elimination of saliva glands on one side of my face, the destruction of my thyroid plus taking away all my sense of taste, I was down to 160 pounds, and the doctors threatened me with being hospitalized if I lost any more weight.
I was determined not to lose any more weight, so this is what I had to do to eat. I would take a combination of nasty chemicals to completely numb my mouth and stomach so I could keep the food down. I would take a pain medication twice as strong and addictive as heroin, and then I would take liquid morphine. We would blend up a mix of protein powder, fresh fruit, yogurt, and meal supplements, and I would put it in a syringe. At the kitchen sink I would put the syringe in my mouth with a tube all the way to the back of my throat and carefully squeeze the plunger on the syringe and let the food drip down my throat. You see, even with all the medication, I was unable to swallow. I had to let gravity do all the work. I did not lose any more weight after that. I did not get hospitalized. A small victory, but sometimes life is measured in small victories.
Once my weight was back around 175, I was scheduled for a massive neck dissection. The doctors removed all 32 lymph nodes in my right shoulder and neck. The surgery took over 40 staples to close the wound.
I made it an important goal, and I actually attended MDRT in Indianapolis that year, just six weeks after my surgery. I went back to work in late June 2009, but it took almost two full years to get back to my production levels prior to my diagnosis.
I had my annual checkup that November and was given a complete and full workover and a clean bill of health. I was overwhelmed to be finally cancer free.
Although cancer changed my family's life, the financial impact was much less because I owned two critical illness policies. I have my two critical illness checks in my hands, each for over $100,000. Would anyone like to trade?
Many people ask me, "What did you do with the money. Why did you need it? Didn't you have disability insurance?" Well, I did have disability insurance but, of course, that only pays a portion of my regular income to pay regular household bills and only if I'm unable to work. The critical illness insurance policies paid out because I was diagnosed with cancer, not because I could not work. The great myth around critical illness is that if you are not working, you don't have any bills, and that could not be more wrong. We used the benefit to pay for my wife to take almost six months unpaid leave from her job. In fact, she never returned to work. Disability insurance doesn't pay for that.
There were countless bills for hospital parking, meal supplements, and drugs not covered by my work's drug plan. Some drugs were as much as $50 a pill. But most of all, after intercepting Hanna's letter to Santa, we went to a local furniture store and bought the largest leather, fully reclining, La-Z-Boy chair they had in the building.
We positioned it in the middle of our living room, even though it did not match any of our other furniture, and every day when Hanna came home from school, she would climb into that chair to tell me about her day. We would laugh, and sometimes we would cry. Our entire family would fit into that chair, and we spent many nights watching movies, reconnecting as a family, and supporting each other. It became known as "the recovery chair." It is still in our home today.
So, when I talk to clients about the benefits of critical illness insurance, in the past I used to stress the peace of mind it would provide. Well, in my case, it provided not just peace of mind but also a piece of furniture.
Critical illness insurance never took away that cancer. It took away the financial stress and the devastating effects it can have on a family, so that I had a fighting chance to be here to share with you.
Are you selling critical illness insurance for your clients? If not, why not? Are you carrying a policy on yourself. If not, and you would qualify, why not?
I would like to share with you my five tops tips and tools when it comes to starting conversations about critical illness insurance.
Do you have a waiting area or client area in your office? Do you have magazines in that area? What I do instead is provide a scrapbook of articles and personal stories about the financial and emotional stress of being diagnosed with, being treated for, and surviving a critical illness, such as cancer. You see, this way the clients usually start the conversation because they find something interesting in one of the articles and, from time to time, they even know one of the people in the story.
The conversation usually starts by us talking about something they found interesting in the book. Then I ask them, "What if you couldn't work for a year or two because of a serious health issue, something such as cancer or a heart attack, where even if you wanted to go back to work, you physically couldn't? I would like to show up at your home with a get-well card and a get-well check. How big would you like that check to be?"
I find most of my clients usually ask for about two times their annual salary. From this point on, we continue to discuss if they would like the coverage for the next 10 years, or for their lifetime if I promise to give them back the money if they don't use it before they die.
What have I just done? That's right, I let them create the need; I let them determine the amount and all of this without discussing premiums or policies or spouting statistics. You see, I don't use statistics to sell critical illness insurance. I find that once you are a statistic, they no longer seem to matter to me.
Another great way to start the conversation is to ask clients during a meeting, "Have any members of your immediate family—mom, dad, brother, or sister—ever been diagnosed or treated for cancer, heart attack, or stroke?" I wait patiently for an answer, and if there has been a family member affected, we discuss what it was like emotionally for the whole family. And then I ask, "Would $50,000 or $100,000 or maybe even $500,000 have made it easier to get the treatments, or covered the bills, or given you more time to be together? I know it wouldn't have taken the cancer away, but would it have made it easier to deal with?"
Then I show them three blank checks and I give them a dry marker. I ask them, "If I took you away from work for the next year or two, how big of a check would you like me to deliver to you while you are awaiting treatment or during your treatment?" I then hand them the check and let them write an amount in, and I sign the check. I then complete the other two checks, and I explain to them that this is one of the greatest things I get to do. You see, I deliver get-well checks. If you are diagnosed with one of the covered illnesses and you have a critical illness plan, I get to deliver this check to you. If you don't get to use the plan because of a tragedy, I will give your family this check, You see, if you get sick, you get a check. If you die, your family gets a check. Now, some plans even include this amazing third check. This check says that if you don't get sick and you don't die while having the plan, in the future I will give you a check back with all the premiums you paid into the plan. What do you have to lose?
If you haven't guessed, yet, I am a very visual presenter. I like to break things down into very simple concepts and conversations. Another fun one that I do is very similar to the three checks, but instead of checks, I keep a stack of cash available on my desk—all in $100s and $50s. They are "school money" meant to illustrate the concept, and they are also available at the MDRT store.
The conversation is very similar to above, "What would happen if I took you away from your job for the next one to two years, and I got to show up with a get-well card and a bucket of money. How much money would you like in crisp 100- and 50-dollar bills?
I await their answer and then tell them that is exactly what I do. With critical illness insurance, the company takes a large amount, say $50,000 (and I take the stack of $100s and place them in front of them), and they put it aside with your name on it, just in case. Then every month, you make a payment into the plan, say $50. (I take $50 from the stack and put it into a separate pile.) You keep doing this every month. If you get sick with one of the covered illnesses, we trade bank accounts, and you get the $50,000, and we keep the premiums. If you die before you need the $50,000, we take your account and give back the money to your family. Plus, with some plans, if you don't get sick and don't die before a certain time or age, we will give you all the money in your premium account right back to you.
Do you have grandparents as clients? Are most of them insurable after the age of 65? Are you a grandparent? Would you do anything you could to help them if one of them got cancer? Of course you would. You see, one of my best markets is talking to grandparents about the gift of critical illness insurance for their grandchildren because, let's be honest, would they not want to help if something happened to one of their grandchildren? For very small premiums every year, in one payment, they could protect their children's families.
As I mentioned before, I don't like to use statistics. I would much rather tell stories, but even better, I like it when other people tell their stories. Here is a story of a very special young lady and how critical illness insurance helped her. [video]
If you showed that video on a campus or to a group of young mothers at a young mom's club or a church or even a library, do you think they might be interested in learning more about what you do and what critical illness insurance is?
Remember, it is not usually about policies and premiums; it's about being there for people when they need you most.
Amanda's video is part of the toolbox "Hanna's Letter and Other CII Tools" available in The MDRT Store.
I just realized I have already shared five great ideas, but I can't stop without sharing one more. You see, there are a ton of books out there for families when mom has cancer. Trust me, just google it. Amazon has over 30 titles. But there is next to nothing for when dad has cancer. So I wrote an illustrated children's book called Hanna's Letter. It is also available in the MDRT Store.
I shared our family's story so you can share it with families when you hear they may be going through the same thing. Obviously, it would be too late to sell them a policy, but it would show them just how much you care. Other successful advisors have purchased copies of the book and placed them in a local children's hospital or cancer ward. Sometimes it's about showing how much you care and not just about making another sale.
I'd like to close with a letter Hanna sent me last year on Father's Day. I was speaking at a conference, and I was probably not going to make it home for Father's Day.
Dear Dad,

Thank you so much for everything you do, even just the little things. You don't know how much it means to me when you come to my soccer games and cheer me on, when you come to my school performances, and even when you went to Typhoon Lagoon in Disney World for the whole day with just me. That was so much fun. There are so many little things, but I would never have enough time in the world to explain how much they mean to me. You support me in everything I do. You have never told me to give up, you always tell me to keep trying

Thank you and Happy Father's Day,
Hanna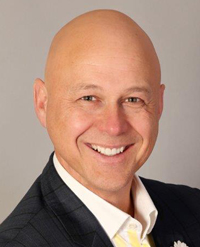 Darren W. Ulmer, CFP, CHS, of Saskatoon, Saskatchewan, Canada, is an eight-year MDRT member who is also a certified health specialist, author and radio personality. He is a member of the Elite Partner Program at Sun Life Financial and has spoken about critical illness insurance around the world.