From good to great to joy
Sol Hicks
Hicks describes his techniques for focusing on what matters most and using dreams to maintain happiness. Presented at the 2017 Annual Meeting.
I'm looking around this room. A lot of you I know and many of you I haven't met, but you know what? It doesn't matter. We're all family.
We are all connected by the good work that we do. We're connected by our ability to serve people, to make their lives better, to help them sleep peacefully and look forward with hope. We do that every day. And we're here because we do it well.
But that's not why I'm here, up here standing on this stage, in front of all of you. I didn't say yes to this invitation just so I could be another hand patting you on the back saying, "Job well done!" You already know that. I'm here to remind you of some things you might have forgotten.
You see, when you're good at what you do, it's easy to forget about everything except closing, competing, or coming out on top at the end of the year. But that's not all there is. We are more than our numbers. We live on more than paychecks and pats on the back. We are stronger and longer lasting than any trophy we might put on the mantle or hang on the wall.
We have to be. If we're not, what happens when the Annual Meeting is over and we go home where the only peer is facing us in the mirror? Who are we when nobody is saying, "Atta girl!" or "Atta boy!"?
I've been doing this now for 47 years, and I'm good at it. But there have been some very deep valleys between those high points. If I didn't have something more solid than feeling good about myself to stand on, I might have quit a long time ago. I might've quit when they fired me my first week on the job, after they found out I didn't have a car or a home phone. Somebody says, "You're fired," and that's a pretty good reason to quit, wouldn't you say? But if I had listened to that guy, I wouldn't have been Rookie of the Year.
I could have quit 20 years ago when I was on low sales probation and my manager said that I was finished. That was the year before I won my first of 12 number one trophies.
Ten years ago, somebody said I should retire, because, well, that's what you do when you're in your 60s. I tried it . . . for two whole days. It didn't stick.
I didn't because I knew I was made for this. That belief put me here and it keeps me here. What keeps you here? What gets you out of bed, puts a smile on your face, and keeps you up, even when your numbers are down?
What do you remember when you forget what it feels like to win? What is the source of your joy?
My wife, Carol—my best friend and the most beautiful person I know—did something for me, early in my career, that put so much of my life in perspective. I came home from work one day to find that she had hung a map of the world above our bed. "This is the dream," she said. We had prayed and asked God to enlarge our territory. She put the map there to remind us of it. We had red pins to mark all the places we had traveled to and blue pins for places we wanted to see. I looked at that map every morning when I woke up and every night before I went to bed.
Fast-forward: A couple of years ago, our grandchildren—who weren't even born when my wife first hung the map—gave us a new map for Christmas. We used the same box of red pins to mark where we've been and the same box of blue pins to mark where we hoped to go. We ran out of red pins and didn't need the blue pins.
Miss Carol, my amazing bride, taught me how to focus on what mattered. The work—even being good at it—was not the goal. It was a way to get to the goal. I went to work excited about my future and excited about helping other people focus on theirs.
It was once said, "Every great dream begins with a dreamer. Always remember, you have within you the strength, the patience, and the passion to reach for the stars to change the world."
This is who we are, what we do, and why in one perfect declaration, isn't it? We are dream weavers, making big tomorrows out of today's uncertainty and sometimes even yesterday's mistakes.
Yes, we are changing the world, one family at a time, but that's not what I came to talk about. I'm here to do for you what my wife did for me.
As you put tomorrow together for others, are you remembering to stoke the fires in your own belly?
Every great dream begins with a dreamer. Are you still dreaming? Is there still something out there for you to reach for? Or are you just trying to manage what you have?
It's easy, when you're struggling or even if you're good, to decide that "good enough" is good enough. But we weren't designed for that. We were created to hope, to live with purpose and on purpose. We were born with passion in our hearts for a reason. Every choice we make takes us closer to or further away from who we are designed to be.
Will Durant said, "We are what we repeatedly do." King Solomon said it another way, he said, "As a man thinketh in his heart, so is he." In other words, what we believe we become.
Are you believing in something beyond today? Are you reaching for it and working for it?
After almost 50 years in this business, the question I get asked more than any other is "How do you stay so happy?" I think all my life I've had a "map on the wall," something to look forward to, reach for, or run after.
I've always been a dreamer. I've never been without a dream, a reason to smile, even when life was hard. My passion has always been greater than my pain.
I walked four miles to catch the bus to work and four miles to get home because there was the dream of providing for a happy wife and two healthy baby girls.
I still get joy out of finding new ways to make my wife happy. But my "baby girls" have babies of their own now, and their babies have driver's licenses, so I have new dreams. I want them to live with purpose and on purpose, to have passion and plans, not just one or the other.
I also dream of mentees making MDRT and sharing what I know with agents all over the world. I dream of making a difference and lighting a path for others to follow.
If you're just closing cases, there is more for you to do. If you're only seeing prospects and not people, there is more for you to know. If you just care about making money, and don't realize or care that you're also making a difference, there is more for you to be.
You are not just showing up for work. You are showing up because people need you. But you've also got to show up for yourself—be present in your own life. If you're not willing to do that, how can you ask your clients to commit to doing it? Never forget that. Take it with you into the office, and communicate it to you team.
Recently, Fast Company magazine picked more than 200 top business and cultural leaders to speak at its Innovation Festival in New York.
They talked about everything from technology to space travel to criminal justice reform to meditation. The one thing they all talked about was finding purpose in your work.
Scientists say that meaningful work engages you and that you are more committed to doing whatever it takes to become successful when you know that your work means something to others.
A recent study found that people who believe their work has meaning are more likely to work at their peak potential. They lead more satisfying lives. And they have richer relationships.
When I see a mother and father exhale because they know their kids are going to college, I see my daughters. When I know a church won't lose its place of worship because I helped the pastor or the elder board put some safeguards in place, I feel blessed to be a blessing.
When sons and daughters can take care of their sick or aging parents without fear of losing everything, I am reminded that helping people plan for tomorrow is the kindest, most caring thing we can do for others.
Look around this room. Some of you see competition, people you want to be better than next year. That's fine. But we are more than what we do for a living. Look at the person on either side of you and tell them, "Dream!" Tell them, "Dream big!" Be your brothers' and your sisters' keeper, not just their competition. Dream with them and for them. If we all become better at what we do, it'll be because the world around us is better.
Pearl S. Buck said, "To find joy in work is to discover the fountain of youth." I'll be 74 years old in a couple of months, and I'd have to agree.
If you're good at what you do, you can do it for a long time. But if you have a dream or two—a passion for something bigger than yourself—I think you can do it forever. The sky is the limit.
I think I'd like to try that. What about you? Stand up if you're ready to reach for the sky.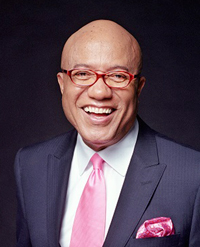 Sol Hicks is a 30-year MDRT member with three Court of the Table and 18 Top of the Table qualifications from Acworth, Georgia. Hicks is an internationally sought-after speaker, career coach and consultant and was GAMA International's Agent of the Year four times.