Financial oxygen
Alphonso B. Franco, RHU, RCIS; Godfrey Phillips, FChFP, J.P.
MDRT members discuss the value of critical illness insurance and how to use analogies to effectively communicate this to clients. Presented at the 2017 Annual Meeting.
Franco: We have 125 years of wisdom to share with you, and Godfrey reminds me they are mostly mine! Godfrey, can you briefly share with us what the fiduciary responsibility of a financial advisor is?
Phillips: Our fiduciary duty is the highest standard of care. As advisors, we must always work in our client's best interest and not ours. Pay the highest attention to this. As fiduciaries, we must avoid conflicts of interest, i.e., if we replace a product for new commissions and fees and there's no real benefit to the client. You will soon be in the regulators' sights if you continue to do this. Because of the highest standard of honesty, full disclosure of fees, commissions, and charges must be disclosed. This is the new world of compliance we live in, so get used to it. Our job is to find the holes/gaps in the client's financial plan and fix it. And, finally, prepare your client's files as though you were to defend yourself in court one day. If it's the client's word versus your word in a court case, the client will win. So don't trust your memory—protect yourself and document everything.
Alphonso, can you share with us how your life was transformed with critical illness insurance based on purpose and passion?
Franco: I remember vividly an experience I had 17 years ago, on the first birthday of my youngest son, Jamison. My family attended a church service in Victoria, where the minister, during the service, asked for any prayer requests, and a lady requested prayers for her brother, who was suffering from cancer. Later that year, my five-year-old son, Trenton, asked what I was doing that day. I told him that I was meeting an insurance company executive to discuss critical illness insurance. He immediately said, "Great, maybe you can ask him to help the lady in church." "What lady?" I asked. He said, "Remember the lady who asked for prayers?" I said, "I am sorry, Trenton, but insurance companies can only help people if they have insurance before they get cancer." He said, "Aaah! That is not very nice." Just as I was going to launch into a long-winded explanation, Trenton was silent for a while, and without skipping a beat, he went on to say, "I know what you can do. You can help the lady in church, so when she gets cancer, you can help her." A little child was thinking of the effects of helping someone financially while she suffered an illness. I am sorry to say I had concentrated on a policy count rather than realizing the people I was helping. A child showed me the purpose of what it is that we do on a daily basis. We are ordinary people who do extraordinary things on a daily basis. That day my work purpose became much clearer.
In relation to the protection gap, how do people without disability and life insurance cope? [visual]
Phillips: A major traumatic illness creates special problems and forces one to change priorities. Increased stress and anxiety, massive medical bills, employment, home alterations possibly, quality family time—I'm sure advisors can add other stressors if their clients have suffered a critical illness.
Disability income: Will pay, but it won't be enough.
Life insurance: Will be enough, but it won't pay.
Critical illness insurance protects the gap and was designed by Dr. Marius Barnard more than 30 years ago to pay on diagnosis of a critical illness. He said, "My patients lived for years, but in this time they died financially." Critical illness insurance buys clients time freedom and money freedom, which is financial freedom. Learn the language of critical illness insurance.
Alphonso, what do you say to clients if they really need critical insurance?
Franco: I ask my clients if they fly. Generally, they say yes. I ask them to repeat for me what the airline announcement states in the event of an emergency. The answer is generally, "In the event of an emergency, an oxygen mask will drop in front of you. You must place the oxygen mask on yourself first and breathe before you can help others around you." Similarly, both critical insurance and life insurance are financial oxygen gifts that we are entitled to protect ourselves with. The only question generally is how much "financial oxygen" we need to protect ourselves, our families, our business, etc. To address the need for a plan review, I illustrate the following example:
If prospective clients tell me that they made a plan years ago, and they do not need to review their perhaps now outdated plan, my question to them is: "How accurate do you think a pilot has to be in order to get to his or her destination?" If they don't review and make adjustments regularly, they can end up in a different area code. Godfrey, how would you explain the Trauma Challenge?
Phillips: Alphonso, this flyer is very user friendly and going to appeal to a lot of MDRT members, especially if they play golf and if their clients are golfers. [visual] Like all of you right now, my clients are eager to read the statistics in the water hazards and sand bunkers. So what are your chances, and how will you avoid the hazards?
In the rough, you will see the hazards of multiple sclerosis, organ transplants, head trauma, kidney disease, liver failure, Parkinson's disease, dementia, and paraplegia, where there is less chance of this happening, but a critical illness insurance policy will pay a tax-free sum of money on diagnosis of these conditions. However, Dr. Marius Barnard said that 80 percent of people in their lifetime will suffer from one of the big three: cancer, heart attack, or stroke. The sand bunkers and water hazards show the respective stakes. The analogy of the extra penalty for putting your golf ball in the water correlates with the 30 percent of people who will suffer a cancer. While golfers can get out of a sand bunker with some difficulty, recovering from a heart attack and especially a stroke can be very debilitating. The high stakes are your income and lifestyle over your lifetime. Few will make it without at least one expensive mishap. I hope this flyer helps you conceptually, like it has helped me.
Alphonso, you were like another son to Dr. Marius Barnard. You ran many international conferences with Dr. Barnard educating the world about the need for critical illness insurance in our financial planning. What is it that brought you two together, which has seen a massive growth of critical illness insurance sold globally, and what do you see is the future of this amazing product?
Franco: Please turn to your left and say, "You are not my competition," and now please turn to your right and say, "You are not my competition." You see, you are not my competition, but illness and death are, and our job is to simply get to our clients before our completion does.
Critical illness insurance is the fastest-selling product in the world because it helps people while they are alive. It helps people when they need it the most. Dr. Barnard and I struck up a friendship that lasted for decades. He created the product as his gift to humanity. I realized that my passion to help people could be replicated in various parts of the world with the help of advisors who are very eager to protect their clients from a financial tsunami or financial sclerosis that generally follows an illness. I realized that if people saw the passion that Dr. Barnard and I had, then perhaps collectively a lot of financial lives could be saved.
Phillips: If you are not marketing critical illness insurance to your clients, you are letting your clients down, and in today's savage world of compliance and regulation, you are leaving yourselves open to litigation. So buy the product first, learn the language of critical illness insurance, become passionate about this product, go through your client base, and help your clients own this magnificent product.
Franco: How do I ensure that insurance companies and reinsurance companies pray for my well-being every night? I can tell you by practical experience that insurance and reinsurance executives of various faiths, and some of no faith, still pray for my well-being every night, because the amount of insurance I carry on myself forces them to pray for my well-being. I would advise you all to be similarly well insured so that you are guaranteed prayers for your well-being by your insurance companies.
Another insight I would like to share with you is this: I think it would be a sin if we do not talk to our clients about products or concepts that will help them when they need it the most. Don't worry if you have not talked about this product with your clients. My late grandmother, who was a woman of strong faith, used to tell me in Portuguese, "Falling down is not a sin but failing to get up is." I suggest that you talk to your clients to help them while they still have the ability to choose their financial oxygen.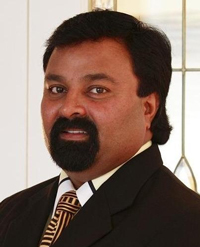 Alphonso B. Franco, RHU, RCIS, is a 23-year MDRT member with one Court of the Table and 18 Top of the Table honors from Victoria, British Columbia, Canada. Franco is a leading authority on critical illness insurance who speaks throughout the world on the importance of having critical illness coverage.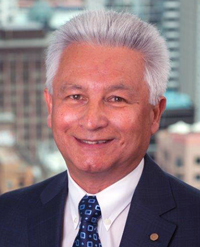 Godfrey Phillips, FChFP, J.P., is a 32-year MDRT member with five Court of the Table honors from Caringbah, New South Wales, Australia. He is a much-sought-after speaker and educator. In 1994, he was named the "Lifewriter of the Year," and in 2015, the "Collins Phillips" award was created in his honor for outstanding service to MDRT in Australia.