Engagement
Richard Pearse Collins
What makes a client want to engage with you, and what are the essential components of your communication with them? Collins shares his tips for branding and personalizing the message. Presented at the 2017 Annual Meeting.
Client engagement cannot be achieved in a day, a week, or a month. To succeed you need:
Trust
Dialogue
Performance
In order to succeed, you must evaluate yourself as being:
Sharp
Enthusiastic
An authority in the industry or segment that you specialize in
If you are none of the above, then you face a relationship that does not meet its full potential.
Client engagement begins before you onboard the individual or firm. From your firm's point of view, you need to construct data on an industry in relation to:
Product usage
Financial behavior
Relationship profitability
If you are happy with the results, you will then engage with your target audience. Now, you might be ready to engage with them, but are they ready to engage with you? Clients engage if they like:
The advisor
The company
The proposition
If none of these are correct, then forget about it!
I set my business up five years ago. It started off in a bedroom, and now we have 13 team members, and I'm the only advisor. So how did we do it you might be asking?
Engagement
Branding
Get the brand right, build it, and they will come—once your distribution is right.
The Pitch
Don't do what other advisors do. That's why the prospects are talking to you; they are sick of trying to be sold. You need to show them that you are there to facilitate them to future proof their family and business finances.
Personalize the Message
Make it relevant to the industry that they operate in. Talk about the threats, regulation. Focus on the negatives and close them with positivity.
Impact
A picture tells a thousand words. You have five seconds to engage.
Team
You must be confident that each team member is a brand ambassador. If there are any uncertainties, do not hire them. Your mission statement reflects your engagement system. Buy-in is needed from all team members.
Observe What Others Do. Then Do the Opposite or Do It Better
Spend as much time as possible talking to clients and less time doing non-value-added things. I am not a professional driver. I am, however, a finance professional. To mitigate the time I was losing driving across the Emerald Isle, I purchased a mobile office. I have a driver who brings me to my meetings so I can talk to clients, new and existing, while in the back of the mobile office. He then processes the case from the previous meeting while I'm in my next appointment, and our office HQ has a summary report with our clients before I have even left their parking lot.
Literature
Provide your client with free literature. People love free things, so let them have it. Our marketing budget is €100,000 a year. We produce literature, brand it, and deliver it at our expense. We do it again and again until we have saturation. Clients share it with their network, and we get referrals.
Technology
We developed a Centralized Wealth Management System for when we onboard clients. We empower clients with information.
Onboarding: Appointment is set and client gets a text (SMS) and email with confirmation and directions. They also get our welcome pack.
Paraplanners then engage. Logins provided.
Digital risk analysis
Collation of key financial data
E-meeting is set up to discuss goals and aspirations
Written business pipelines update the client on progress being made.
Client gets emails and text messages as the processing of the financial plan is moving toward completion—25 percent, 50 percent, 75 percent, 100 percent.
Clients get a scheduled 10-minute phone call from our private client relationship managers each month. Our wealth management system automatically sends:
Monthly fund updates
Quarterly wealth management reports
To engage is to retain. We use software to discuss client cashflow modelling. It fills them with confidence that you can manage their financial life into the future.
Apps and portals give them data on the go.
Social media: At our firm, client engagement requires us to continually look at our:
People
Processes technology
Business goals
An engaged customer becomes a micro-marketing department since they will promote you. To keep a client engaged, you need to have guiding principles. Our client engagement process is designed to make it:
Convenient
Comfortable
Consistent
Customized
To perform is to engage and retain!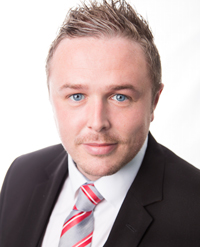 Richard Pearse Collins is a four-year MDRT member with four Top of the Table honors from Dublin, Ireland. He is CEO of the Walfrid Private Group, a financial planning firm serving high-net-worth clients which specializes in executive and corporate financial planning.