Do's and don'ts of seminar marketing
James William Johnson
To survive and thrive in the financial services business, you must always be marketing. Seminars are an excellent way to do that. They come in many shapes and sizes, from dinners to professional group presentations to simple two-minute elevator speeches. Johnson covers some of the do's and don'ts of seminars and shares a 30-minute presentation you could easily tweak to suit your business.
Who has a dollar?
How Do I Get Started Doing Seminars?
First, you have to determine what your market is and who is in it. Then, you have to define what you want to accomplish. Every meeting is a seminar—from one-on-ones to groups of a hundred.
Mobile home parks
Centers of influence
Groups and organizations
Family meetings
Dinner seminars
The list goes on and on. Fake it until you make it.
How Much Will It Cost Me?
The answer to this question varies, depending on the target audience. It costs $0.00 when asking questions of every person you meet. Mobile home parks cost $50 to $100 for flyers, $50 for lunch, and $150 for a raffle. That's $200 to $300 total. Dinner seminars cost $6,000 to $10,000 each. That's $5,000 to $8,000 for the mailing through a mailing house, and the balance in meals, tips, etc. (approximately $50 for handouts).
Anybody have a dollar?
Measure the cost. If you can't afford it, don't do it. Measure everything.
Cost (a complete breakdown)
People who said they are going to attend
People who attended
Set appointments
No-shows
Didn't set an appointment
Number of buying units
How much revenue was generated? (You have to track this for years.)
Did you get referrals? How many resulted in business?
If you don't measure it, you will never know if it worked. You must have several events to measure against or don't bother.
How Do I Promote a Seminar?
We use mailing houses, direct mail, radio shows, centers of influence, public encounters, social meetings, referrals, etc. What can you afford?
What Equipment Will I Need?
You should have the following equipment and supplies:
Projector
Screen
Wireless remote
Sound system with wireless microphone
Laptop
PowerPoint software
Backup batteries
Checklist
Extension cords and power strips
Portable dry erase board with dry erase pens
Names badges for you and the attendees
Should I Feed Them?
This is the age-old question. As always, it depends. It depends, most of all, on what you promoted. If it is a dinner seminar, don't skimp. On other occasions, water and coffee are often adequate.
What Are My Deliverables?
A comment and appointment request sheet is a must. Perhaps provide a brochure or handout about your company and/or you. Do not hand out product information. You are not selling a product; you are selling your this-is-a-no-cost-no-obligation-leave-your-checkbook-at-home appointment.
Provide an action sheet (something to write on) and a pen. I have a test that I hand out at the beginning of seminars. I set the test up as a preliminary activity so attendees can test their knowledge level before the seminar to compare it later with what they learned throughout the seminar.
How Do I Get People to My Seminar?
First, you have to invite them. But that is the easy part. Most importantly, you want them to RSVP. You must call them within 48 hours before the event to confirm. Generally, forty percent will show. Don't be disappointed with no-shows; they are part of doing seminars. Focus on the ones that show up. You will drop the rest later.
What Types of Seminars Can I Do?
There are few limits here. What are you comfortable educating people about? Social Security, retirement, annuities, alternative investments, taxes, max funded life insurance, LTC, or a mixture of them all. Fake it until you make it! You know more than you think you know, and much, much more than they know.
Should I Allow Questions?
I suggest you try to keep them to a minimum while giving the presentation. If attendees do ask a question, repeat it and give the answer quickly and precisely. You don't want to get off subject while presenting or you may never get back on track.
Here is a suggestion on you could deal with questions during your presentation: "I'm going to answer most of your questions through what I'm going to teach you today, and at the end, if I haven't, I promise I will. Further, if I don't, we can cover that more in depth during your no-cost-no-obligation-leave-your-checkbook-at-home appointment. I'm here to give you a 100,000-foot view of things. We will discuss how they apply to you when we meet."
How Do I Transition from a Seminar to Getting an Actual Appointment?
This starts on your first confirmation call. Be professional, courteous, and friendly. Start building a relationship. Ask throughout the seminar. Finish with the no-cost-no-obligation-leave-your-checkbook-at-home offer. Continue to follow up by all forms of marketing until they tell you to go away.
What is the highest top marginal tax bracket in the last 103 years? The affluent are and will be political targets.
What do we offer?
Life settlements
Indexed annuities
Structured cash flow
Woodbridge
Max funded life insurance
Before I close:
Mentors and partnering are important!
Education: When you are green you grow; when you are ripe you rot!
Volunteer: You will get the most out of it!
And plan like you are going to live forever!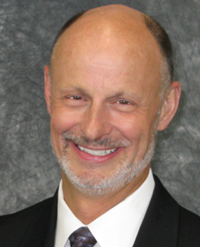 James William Johnson is a 10-year MDRT member with four Court of the Table qualifications and one Top of the Table honor from Laguna Hills, California. He has conducted hundreds of seminars throughout his career.