Creating unexpected moments of joy
Charlie Todd
As the founder of the comedy collective Improv Everywhere, Todd has created public performances and viral videos aimed at creating moments of joy in the lives of strangers. He shares lessons about finding spaces in need of comedy and generating content that uses surprise to inspire smiles and happiness. Presented at the 2017 Annual Meeting.
I moved to New York City in the summer of 2001 with an interest in acting and comedy. I was 22 years old. I had just graduated from college. I didn't really have any immediate opportunities in front of me, so I decided to create my own performances in public spaces.
The first project we're going to take a look at is the very first No Pants Subway Ride. This took place in January of 2002. [visual] This woman is the star of the video. She doesn't know she's being filmed. She's being filmed with a hidden camera hiding under a magazine in my friend's lap. This is on the 6 train in New York City. These are two Danish guys who board the train and sit down next to the hidden camera. And that's me right there in a brown coat. It's winter, so it's freezing cold outside. I'm wearing a hat, and I'm wearing a scarf. The girl's going to notice me right here. And as you'll see now, I'm not wearing pants. So at this point she's noticed me, but in New York, there are weirdos on any given train car. One person is not that unusual. She goes back to reading her book. She's noticed the unusual thing, but she's gone back to her normal life.
Now in the meantime, I have six friends who are waiting at the next six consecutive stops in their underwear as well. They're going to be entering this car one by one. We'll act as though we don't know each other. And we'll act as if it's just an unfortunate mistake we've made, forgetting our pants on this cold January day. Here's the second stop. [visual]
At this point, she decides to put her book away. And she decides to be a little bit more aware of her surroundings. Now in the meantime, the two Danish guys to the left of the camera, they're cracking up. They think this is the funniest thing they've ever seen. And watch her make eye contact with them right about now. I love that moment in this video because, before it became a shared experience, it was something that was maybe a little bit scary, or something that was at least confusing to her. Then once it became a shared experience, it was funny and something that she could laugh at.
So the train is now pulling into the third stop. I won't show the whole ride, but this goes on for another four stops. A total of seven guys enter anonymously in their underwear. At the eighth stop, a woman came in with a giant duffel bag and announced she had pants for sale for a dollar—like someone might sell candy on the train. We all, very matter-of-factly, bought a pair of pants, put them on, and said, "Thank you. That's exactly what I needed today," and then we exited without revealing what had happened, and we went in all different directions.
Here's a still shot from the video. [visual] I love that girl's reaction so much. And watching the video later that day after the stunt, it inspired me to create more moments like this, and Improv Everywhere was born. I got excited about the idea of causing scenes in public places that create positive experiences for other people. Is it possible to create unexpected moments of joy for strangers?
I started looking for spaces in the city that could use a dose of comedy. One morning, I was riding the subway, and I had to make a transfer at the 53rd Street stop where there are these two giant escalators. It's a very depressing place to be in the morning; it's very crowded. So I decided to try and stage something that could make it as happy as possible for one morning.
This was in the winter of 2009 at 8:30 in the morning. [visual] It's rush hour. It's very cold outside. People are coming in from Queens, transferring from the E train to the 6 train. And they're going up these giant escalators on their way to their jobs. My favorite part of the video is the smiles on people's faces. You can see the transformation in them from the bottom of the escalator to the top.
Here's a photograph that illustrates it a little bit better. [visual] It was amazing to see how much you could transform a space with just six actors and five pieces of cardboard. Such a simple action can brighten the days of so many people, even if just for a few minutes. Rob gave 2,000 high fives that day, and don't worry, he washed his hands before and after and did not get sick. Over the years, our projects have grown in scale as we've come up with new ways to surprise and delight random New Yorkers. This next project is called The Light Switch. It took place a couple of weeks before Christmas last year.
This is Father Demo Square, a small park in the West Village. [visual] We placed a 7-foot-tall, red light switch at the entrance to the park and walked away, waiting for a stranger to say yes to our idea.
Improv Everywhere started out as a way for me to express myself as a performer, but over time, I've become more interested in giving random strangers the opportunities to be the stars of the projects. I've discovered that if you give people the chance to do something unexpected, they'll take you up on it, and the results will be better than what you could have ever imagined.
This last project I want to show you is called Conduct Us. It's a collaboration with musicians from Juilliard and Carnegie Hall. This is 34th Street, right in the middle of Manhattan. [visual] We wanted to find out what would happen if we placed a world-class orchestra in the middle of the city and gave random people the opportunity to conduct.
My favorite part of that project was the diversity of the conductors. I love providing an open platform like this, and waiting to see what people from all different backgrounds will bring to it. It warms my heart to see a three-year-old girl and a veteran NYPD officer joining in on the fun.
Most of you were here for the musical surprise we staged on Sunday night, and I'm sure some of you have seen the performances we've been staging around the convention center the past couple of days. It's been a pleasure bringing our brand of surprise and delight to MDRT. In many ways, a conference like this is similar to New York City. Diverse people of all different backgrounds are busily going about their days with a million things on their minds. There can be real power in giving others an opportunity to slow down and have a laugh and a smile, and to pause for a second reflection on the hidden moments of joy that can be all around us, if we want them to be. Ask yourself, How can I bring joy to those around me?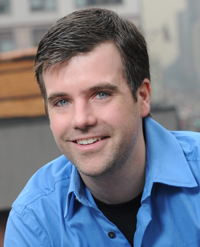 Charlie Todd is one of the most successful video creators in the YouTube age, with an astonishing 250 million views to his name. A master of viral communication, Todd founded the comedy collective Improv Everywhere, a New York group that pioneered public performances in the digital age.