Changing people's lives
Peter Jason Byrne
Byrne describes how he prepared a letter to extend the care he provided to strangers to his friends as well and quickly saw that effort pay off. Presented at the 2017 Annual Meeting.
"If not you, who?" Toronto, 2008, was my first Annual Meeting, which changed my life and the lives of the many people I have helped since. At that meeting, I heard MDRT member, John McTigue, ask that question of us.
When he said, "If not you, who?," it was the wakeup call I needed. He said, "If you're not going to do it properly, get out of the way!"
I literally needed to decide my purpose in this industry. When he said, "Who do you know who needs your help?," I felt sick. I was doing OK in the business. I had a network of friends whom I knew I should have already helped. But I had not.
My friends knew sort of what I did, but they never asked me for life insurance; they never asked for income protection; and they definitely never asked me for critical illness insurance.
The reason I felt sick, though, was that I had failed. I had failed to offer the gift of life insurance to these friends. Yet, I had helped hundreds of strangers. See, I just didn't feel comfortable having those conversations with my friends.
I'm not sure if I was embarrassed, or scared of rejection, or both, but I knew in my heart that I either had to get out of the way or come home and start changing people's lives.
To do this, I made a list of around 25 friends and people I knew and cared about, and I wrote this letter to them:
I am just writing to you to let you know that I care about you and your family. I'm not sure if you know what I really do, but I am a life insurance and income projection advisor, and it is important for me to know you have these valuable covers in place for your family's financial protection.
I will call you in a few days to offer my services and advice, or if you feel we are too close, I can refer you to someone I trust to assist with such an important matter.
As John did for me, I encourage you to go and share the gift of life insurance. Only four months after I sent that letter, one of my best friends, Chris Paterson, suffered a heart attack, and I was able to hand him a critical illness claim check that provided him financial security while he recovered. I was so lucky I didn't fail him! This is because I asked to help.
So please let people know what you do, and ask to help!
It's not just about helping new clients for me. These days, I spend a lot of effort changing clients' lives who want to cancel or reduce insurance.
I understand that clients will not always follow your advice, but if someone wants to cancel his or her life insurance, please at least have the difficult conversation. John McTigue said that it's not about us; it's about them. We are not asking for us. We are asking for them.
To do this we created a cancellation and advice decline letter. It's about transferring the responsibility back to the client and also making sure that the spouse knows. We have had many invincible husbands wanting to cancel cover who have come back, hat in the hand, and not allowed to once the smart wife has read our letter, and she won't sign it. It's just about helping people make informed decisions and letting them know the true consequences of their decision either way.
Document your claims promise. Most of us tell our clients that we will help at claim time, but do more and document that promise! It means a lot more to clients if they can read it, and it reiterates how important we are as their advisor and the reality check that one day they may make a claim and will need our help.
Our documented claims promise is included in all communications. We even have a large framed poster of it in our boardroom for clients to see in meetings.
Proactively change people's lives through social media. We utilize Facebook to see what our clients are up to and to ensure that we are ready to help. Our clients, Rachel and Kim, unfortunately both broke bones and posted it. I was actually able to send a private message to them saying that we had already arranged their income protection claim forms well before they even had time to think about me or call our office. Clients are impressed by this level of proactive service.
It's not high cost, it's not high effort, but it surpasses every client's expectations.
My final idea is to have people waiting for you to help simply by asking your existing clients. I send the letter on the screen, which works great after an MDRT meeting or a holiday. [visual] It's emailed to my existing clients while I'm away and generates prospects for me to help upon my return to Australia.
It's easy. It's done in a subtle, but effective way. It thanks them for their ongoing trust. It helps to reeducate your clients that you're welcoming and wanting new clients. Most importantly, it reminds them that you're there to help whenever they need assistance or to make a claim. It reminds them that you are their trusted advisor!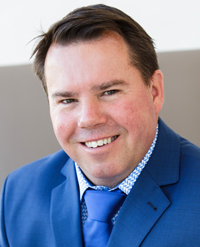 Peter Jason Byrne, of Coorparoo, Queensland, Australia, is a nine-year MDRT member with four Court of the Table and two Top of The Table honors. Byrne leads the Mr Insurance team and has more than 15 years' experience finding the right insurance solutions for families and their businesses.