Build an irreplaceable business model
Taylor Marklin Sledge Jr.
Sledge shares what he has learned from great producers and mentors about production growth and creating an irreplaceable business model. There are common threads such as helping others before you help yourself, working with a great team of staff members allowing you to leverage your best skills, and ultimately building a business that becomes a critical part of your clients' lives.
My name is Taylor Sledge and I am from Jackson, Mississippi. I am 31 years old and I have been in this business for nine years. I love MDRT and have been a member for eight years. I am here to share with you some ideas to help you and your practice create personal and professional growth.
My goal is to teach you how one mindset has translated into a business model that will last—and will produce more than you ever believed.
I always ask everyone to think of a question during the talk and to prepare it for the end. I love getting as many questions as I can take time for. I enjoy being conversational and connecting in any way that I can.
I will use a story here to connect everyone to my MDRT experience. In 2008, I barely made my first MDRT. I was 23 years old. I knew it was important, but I had no idea that the Annual Meeting was important. I was blessed by the presence of an MDRT member in my city, Will
McNamara, who motivated me to register and go. I could not afford it, but I was motivated nonetheless.
Fast forward to the Annual Meeting, and I am boarding the plane for Canada. The seat next to me was empty, and down the aisle came a gregarious man talking to his daughter. He sat down next to me, and after a few moments, I realized he was none other than legendary Top of the Table member, Ron Paulseen. I had heard of him before, and I was starstruck. He was happy to hear I was headed to my first meeting, and it only took a few moments for me to realize that I needed to listen. For the rest of the four-hour flight to my first MDRT Annual Meeting, I got a captive audience with one of the greats. When the plane landed, my business had changed forever. I spent the rest of the week listening to Ron and soaking up the Main Platform and business sessions.
When I set out for my first Annual Meeting, I was a salesperson selling a product. When I returned to Mississippi, I was a business owner serving relationships. I would never be the same.
The Quest for the Biggest Producers Around
After I learned the potential to build a company from Ron and from my first MDRT meeting, I decided that I would find the best ideas and compile them into my model. That meant seeking out the biggest producers in the industry and interviewing them.
I traveled the nation meeting them. I listened and learned. I was enamored by their success. I saw lots of diversity and a few common threads, the most critical ones.
What I Learned
Mindset: They are entrepreneurs first, financial people second.
Focus: They put 100 percent behind their ability to make revenue their personal drive.
Business model: They all run a corporation, and they delegate all weaknesses.
Client approach: They know that products are never the solution; serving relationships comes first.
Building a New Process
What do people really want and need? They want to be understood.
Understanding the end better than the beginning
The product, or the investment return, is meaningless without proof of accomplishing a goal. No one cares what the offering is unless the problem is being solved.
Understanding structure before product
Realizing that the solution trumps all ideas, every time
Meeting an emotional need
Finding that "sales" has no place in "finance"
Knowing that thinking of sales/selling should live within the relationship realm, not the financial one.
Proving our information on paper, making the math work
Pursuing Mentorship
My search for the common threads of the biggest producers resulted in mentorship. Always be a mentor. Always have a mentor.
Here are the fruits of this relationship explained. I learned that every great producer is not a reservoir of knowledge, but a river. Great businesspeople do not store up the best ideas for their own safekeeping. They constantly learn from a mentor, and then constantly pass on what they learn to others. No one has a patent on good ideas. Good ideas are like atomic existence; they are neither created nor destroyed. They are only utilized and passed on. How they are used, at what level, is a measure of greatness in the business space.
Joint work is the finest type of mentorship. Many people have paid tens of thousands of dollars, and sometimes hundreds of thousands of dollars to learn, which is a smart thing to do. Joint work is getting paid to learn, which is a brilliant thing to do.
The Single Common Thread of the Best of the Best
It is the difference between adding value and being valuable. What does this mean? Many people in business have added value somewhere. They offer a commodity; they offer a widget that other people offer. Many insurance people simply offer insurance. This is not bad, it is good. This is adding value by selling someone something they need. It's just fine.
But what is great? To be great in business is not to add value but to be valuable. It is to build a business model that does not just efficiently offer a product, but becomes an irreplaceable part of the client's life. You can multiply your production with this simple mindset.
Never commoditize your business. Never see yourself as a seller of a product. Always position yourself in a manner that you can truly understand the client and serve the best purpose. So how have we done it? We have built a model around being irreplaceable.
Approach: We Spell It Out with Our Mission Statement and Goals
Our mission statement reads: "Our mission is to be the premier financial services team in our region, being known for working for our clients with integrity and honesty at the forefront. We are a business that thrives on the success of the people that we care for the most."
Our basic planning goals are:
Ask: We do our best to ask our clients the right questions, and to bring clarity to their current situation.
Listen: We listen carefully to their thoughts and ideas. One thing is for sure: No two clients are the same. We focus on the unique issues you want to consider.
Create: We work with you to create a plan that considers your needs and makes sense to you. This is your unique plan; we want you to understand and appreciate it.
Create a way to explain your business model. We use a cycle of operations, and we explain each step in the beginning to the client. Our cycle of operations is:
Initial meeting
Considerations and data collection
Discovery
Design
Recommendation (draft/final)
Plan implementation
Periodic plan review
Next, have a team. In the financial world, many people claim to be a jack-of-all-trades. In my experience, people in that realm are also a master of none. Thus, we have a team approach. Every member of the team is a professional, and every member has a place where he or she interacts directly with the client and works through the plan we are building.
Have a dichotomy approach. Address human needs first. Ask questions. Make it obvious to the client that you do not intend to complete the process without solving problems. Have a brilliant questionnaire and use it to collect the facts. Explain that goals take priority over all else.
Address financial needs second. After the questionnaire, create an output—one that addresses their issues in narrative and mathematical/economic formats.
Give yourself a pathway to ask challenging questions. Offer an explanation of confidentiality, and then make sure the stage is set for you to challenge clients on their goals.
Offer technical concepts to be a thought leader.
What does it mean to be valuable? It means putting others first. It means building a business modeled not around you, but around understanding your clients. It means creating something that shows them they are understood. Giving your clients exactly what they need and want, and meeting an emotional need that follows through with a financial solution results in a massively productive, sustainable, and irreplaceable business.
The question to ask yourself is, Am I irreplaceable to my clients?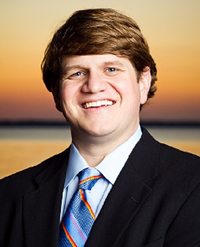 Taylor Marklin Sledge Jr., is an eight-year MDRT member with two Court of the Table and two Top of the Table honors. The Jackson, Mississippi native was named one of NAIFA's Four Under 40. He also has appeared in publications including USA Today, Entrepreneur magazine and the International Business Times.