A new lens
Daniel O'Connell, MBA
O'Connell explains the insight he gained from a past MDRT meeting and how he implemented it to deal with changing regulations and grow his business. Presented at the 2017 Annual Meeting.
I am charged with sharing something that I took from an MDRT Annual Meeting and implemented in my practice, which had a profound effect on what I do.
The easy answer here is friendships. We all network and get to know one another and share great ideas, concepts, and practices, which make us all better. The willingness of MDRT members to share their best practices is unlike any other organization, and it helps make us all extraordinary.
However, that is an easy answer. Instead, I am going to share with you something I took from the 2013 Annual Meeting in Philadelphia. I am going to share how I implemented my takeaway within two months, what it did for my business, and finally, challenge you to look at what you do in a different way.
First, let's set the stage. A large part of my business is working with business owners with regard to their insurance and benefits. In June of 2013, our profession was facing something the likes of which I had never experienced—the implementation of a significant legislative change. This law, regardless of whether you support it or not, meant massive, sweeping changes to every aspect of this particular type of insurance, and the changes were happening at a weekly pace, making it almost impossible to keep clients up to date.
At that meeting, in attending the Focus Sessions, two ideas really stuck out to me, and I merged them. I heard about how someone used seminars with their clients, and I listened to another member describe his customer appreciation events. Now, every one of us has heard about doing seminars. That is nothing new. Years before, I had done seminars, but in not achieving the results I was looking for, there was no way you could have ever convinced me to conduct another one.
This time, something was different though. I looked at this old solution through a new lens. I saw an opportunity to take something that I swore I would never do again—put on a seminar—and deliver it in a different manner with great meaning for my clients and prospects, and give back to those who support me.
When I returned to my home in Dallas, Texas, at the end of the week, I got to work. My thought was to put on an event that I could use to educate my clients on what was happening with their health insurance, explain what we need from them along with a timeline, and finally close with a sales idea as some employers might decide to stop offering benefits, but might still want to do something to retain key people.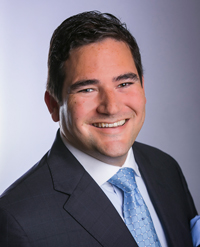 Daniel O'Connell, MBA, is a 10-year MDRT member with one Court of the Table and seven Top of the Table honors from Addison, Texas. In 2016, he chaired the Top of the Table Program Committee.